Reviewed by Sabine Bailey and Kelly Dunning, Auburn University
What are the causes of marine epidemics, how are they transmitted, and how do we prepare ourselves for the next outbreak?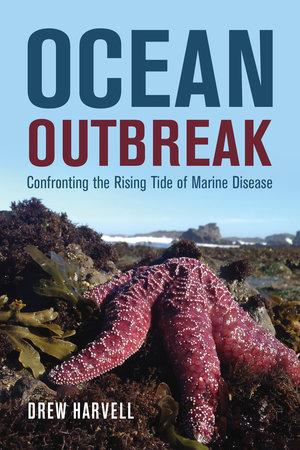 Ocean Outbreak: Confronting the Rising Tide of Marine Disease, by Drew Harvell, University of California Press, 2019, 232 pp.
Drew Harvell writes a captivating and personal account of discovering ocean disease outbreaks and raises awareness of the profound effects of marine epidemics which are often out of sight, and thus out of mind. Although written before the COVID-19 pandemic, this book provides insights relevant in the wake of the pandemic. It outlines the causes and transmission of evolving diseases and offers initiatives to prepare ourselves for the next ocean outbreak.
Life in our oceans is becoming increasingly vulnerable to warming and acidification driven by climate change and other anthropogenic activities. As a marine ecologist specializing in disease, Harvell focuses on the threat of microbes carrying diseases in our oceans. These are especially concerning because once they have been established, it is nearly impossible to get rid of them, partly because the ocean comprises a far more complex mix of bacteria and viruses than land. Additionally, from aquaculture, agricultural runoff, poor sewage treatment, global trade, pollution, to warming sea temperatures, we have created an ideal environment for outbreaks to emerge.
With anecdotes, good-natured humor, and scientific facts woven throughout the narrative, Harvell describes her work in the field studying sea fan and coral disease in the Caribbean and Indonesia. She also writes about her research on the Abalone Withering Syndrome disease, Salmon Disease outbreaks, and Starfish Epidemic in 2014 along the West Coast. Harvell discovers that some diseases, such as Withering Syndrome in abalone, are induced by warmer temperatures, and others are exacerbated by plastic pollution creating lesions, making corals more vulnerable. Some discoveries offer more hope, such as chemical defenses that protect sea fans from bacteria and fungi, which had previously led to mass sea fan mortality in 1994 in the Bahamas.
Harvell warns that we are ill-prepared to handle epidemics and predicts that more ocean disease disasters are in our future. Surveillance and monitoring of ocean health are essential to confronting these threats. In addition, cutting off the flow of human sewage and agricultural waste into our oceans, limiting carbon emissions, relieving economic pressures, improving scientific technologies, and incorporating nature's services in our management plans are of highest priority. She makes the case while immersing the reader in her adventures diving reefs, observing tidal pools, and scientific discovery that incites compassion and, somehow, optimism for our oceans. The bottom line to saving irreversible biodiversity loss in our oceans, Harvell says, is shifting public perception and policy change.