This Land Is My Land: Rebellion in the West
Reviewed by Gregory Johnson, PhD student, Auburn University School of Forestry and Wildlife, and Dr. Kelly Dunning, Assistant Professor Auburn University School of Forestry and Wildlife
What insights can the politics of public land management yield regarding one of the most important acts of political violence this decade?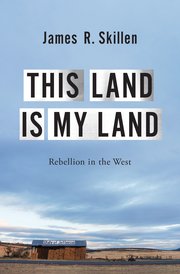 This Land Is My Land: Rebellion in the West, by James R. Skillen, Oxford University Press, 2020, 296 pp.
James Skillen's account of how an ideologically conservative movement contests federal land management in the West means more in the wake of the events of January 6, 2021. What insights can the politics of public lands lend us to understanding one of the most important acts of political violence this decade?
Public lands in the United States have been an issue of great contention for well over 100 years. Eleven Western states live with 50 percent of their available land managed by the federal government in the form of National Parks, Wilderness Areas, National Conservation Lands and National Monuments, to name a few. The book begins with describing the large number of Western Americans that rely on the land for their livelihood, lifestyle and culture. These same people, regarded in popular culture as "cowboys," have to follow the federal policies that have changed repeatedly in the name of conservation and economic needs. Since the beginning of federal public lands, challenges to who should manage the land have manifested themselves in the Sagebrush Rebellion, the War of the West and the so-called Patriot Rebellion.
The book goes into great detail about each of these phenomena to demonstrate to the reader how an ideologically conservative movement in the United States was formed, shaped and driven to conflict with the federal government. Readers of policy process literature will appreciate Deborah Stone's ideas translated from Policy Paradox, drawing on symbols and narratives to make his point. One of the main characters, Cliven Bundy, known for his armed standoff with the Bureau of Land Management and other federal agents in Nevada over cattle grazing on federal property, is a powerful symbol for Western determination.
Adherents of this movement see Washington (and its distant, "out of touch" lawmakers) violating the Constitution, suggesting that such "tyranny" would eventually lead to socialism. Bundy even goes on to compare himself to Rosa Parks, M. K. Gandhi, Henry Thoreau and even to George Washington standing up to British oppression. This political grandstanding and the use of symbols has gained an astonishingly broad support from mainstream conservatives, to the Tea Party, to members of Congress, and even to armed militias. The author deftly predicts the insurrection at the Capitol on January 6 by noting that the history of Western America "provides enough information for a tentative prediction" that "as soon as a Democrat moves into the White House and enjoys Democratic support in the Congress" that "the next rebellion is likely to erupt." Quelling future political violence in a contentious era requires us to understand the lessons contained in Skillen's book.